last week hubby took me to wawasan plaza because he wants to change his wrist watch battery... my FIL gave it to him... anddddd..... tad ta ra raaaaa...... hubby wants to buy me a wrist watch!!!






my birthday is coming, so in advance he gave me this!!!!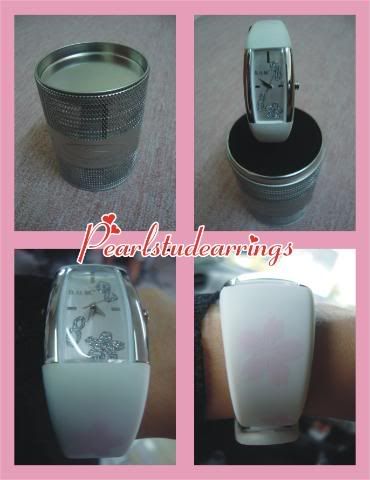 cute BUM watch!! it comes in two color, black n white. i chose the white one with cute little pink sakura.... and there's a bling-bling sakura inside the watch. i loooooooooove it so much!! thank you abg adie.... luv u more... muah...muah...muahhhhh....
hubby did asked me what i actually want. but i said nothing, anything will do. normally if someone asked me what i want for my birthday, i'll go like, hhhhmmmmm...... because i really don't know what i want. sometimes i'll buy a gift for myself... i got myself a 15" tv, make-up set (lost it already), pooh (i still have it with me, in the box) and some other things that i left behind (some i gave it away and some are missing in action!!). my kancil was also my birthday gift from me.... heheheeee.... sold it!!
but since i am married now, and something from hubby is the most precious thing that i can have and i love him so much so i told him that whatever it is i will accept it.... so he wants me to have a watch since i never wearing any. my last wrist watch was 4 or 5 years ago, i bought it for my birthday oso, but it only last not more than a week. i lost it!! ^-^